Billabong Dreaming Live





Billabong Dreaming: Child Safety Aquatic Awareness
Performance Live-Streamed to Schools Across QLD
Billabong Dreaming is a child safety aquatic awareness performance that assist students in recognising and reacting to dangerous aquatic environments. Despite the efforts of the aquatic industry, 249 people drowned in Australia in the 2017/2018 financial year. This statistic highlights the importance of educating our youngest community members to ensure their personal safety.
Whether students participate in school swimming lessons, Billabong Dreaming teaches students to recognise different aquatic dangers and react appropriately to increase their safety in a multitude of aquatic environments.
The play takes students on a journey across six (6) aquatic locations, from a backyard pool on a farm, to the river, lake, beach and public pool. The characters teach students along the way about the dangers of each location and how to keep themselves safe in any aquatic setting.
Tying an indigenous thread to Billabong Dreaming assists in educating our most regional communities and helps students identify with the fabric that is the Australian culture.
Endorsements:
Royal Life Saving Society Queensland and AUSTSWIM have endorsed the program.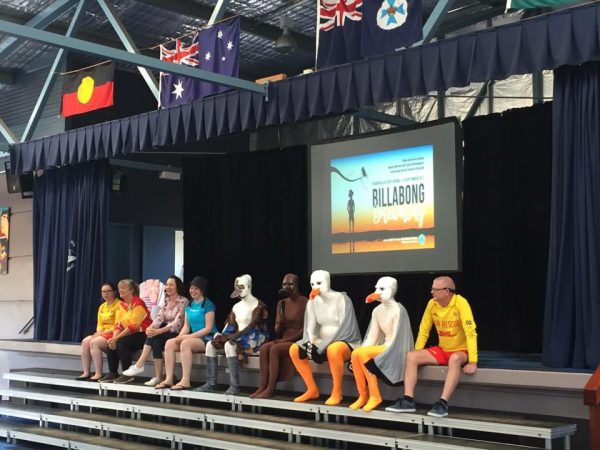 Credits
Written by – Joy Symons & Erica Nolan
Directed by – Joy Symons
Cast in order of appearance:
Didgeridoo Player – Shea Taylor Jnr
Jamie – Sophie Moffat
Ashley – Cyndi Thomson
Cookie – Kurt Swadling
Patch – Danielle Hynes
Tully – Mick Donnellan
Sully – Josh Duncan
Jetski Dude – Philip Bovey
Bob and Lifeguard Larry – Ian Westley
Frog – Nyoka Hatfield
Lifeguard Larissa (video) – Stella McMahon
Backstage Crew – Philip Bovey, Joy Symons
Set construction – Joy Symons, Philip Bovey and Val Kalmikovs
Costumes – Shirley Lees
Safety First Performed by – Corey Yeager
Directors Thank you
"Drowning is the world's leading cause of preventable death."  World Health Organisation
I would like to thank everyone who has helped this vision come to life; from inception to now.
To my family, supporters, cast, and crew, you have been outstanding and exceptionally forgiving; for this I'm ever grateful.   Your kindness has bound me to the cause as I hope you are now also.  I'm proud of each and every one of you.  Thank you for opening your minds, your hearts, and loving Billabong Dreaming as much as I do.
Directors Thank you
Rockhampton Regional Council – Regional Development Arts Fund – Thank you for seeing the value of such a project in our community and state.
Pilbeam Theatre Staff – Thank you so much for putting up with me, helping me and guiding me in the right direction. Your patience is appreciated!
Barry O'Rourke – What legend you are! Thank you for helping the schools hear about our project.
Poolwerx – Sponsor – Thank you!
Liz Leahy Graphic Design – You're creativity and ability to bring my craziness together is astounding! Thank you.
Blue Eagle Productions – Ian Westley, Thank you for teaching me so much in this industry! From the very beginning, your support of the project and my vision is truly appreciated.
Adz Power Agencies – Blake and Noel, Could you guys be any more awesome than you are? I'm not sure it's possible.  Thank you for your mad skills and patience with my ignorance of technology.
Aunty Nicky – Thank you for believing in Billabong Dreaming. Your presence in the project is uplifting.  Let's hope we can bring awareness to more than one cause!
Participating Qld Schools – Thank you for taking the time to educate our future generations and making this topic a priority in your schedule. Your work is truly appreciated by many.
Austswim – To the ladies in the QLD office, Sandra, Amy and Tamara! You guys are awesome!  I love your work!  Thank you for supporting mine.
Royal Lifesaving Queensland – Thank you for your support of the project!
Clark Rubber – Thank you for your sponsorship.  Heidi and Rolly, you are both greatly appreciated.
Special Thank you to:
Philip Bovey, Shirley Lees, and Karen Redmond – This ride has been an educational journey!  The enthusiasm, spark, drive and zest for life you all possess has kept me positive and forward thinking.  Thank you for saying yes when everyone else said "It can't be done!"
Karen Garland – Thank you for the hook up and also the love, support and kindness along the way!